I came across this little gadget on youtube(of course) and I thought to my self "I NEED THAT IN MY LIFE"!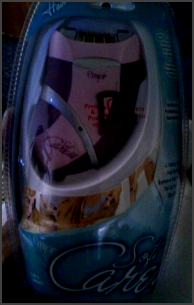 (these pics were taken w| my cell phone. Excuse the quality, guess i'll use the digi next time!)

It's the Emjoi Soft Caress Epilator. An epilator is basically a bunch of tweezers that electrically rip hair out from the root. I know that sounds harsh but, that's what it does, in a nutshell.



(it comes with the actual epilator, a cleaning brush because you CANNOT put this model in water, a protective cover for the tweezer heads, a "finger massage" attatchment, a small loofah for exfoliating before and after epilating[not shown in picture because it's in my shower. ;)], a bag to carry it in, and a charger!)

My first question when I first saw this thing was "Omg, How bad does that hurt?" and let me tell you.. I'm not gonna sugar coat it the least bit, it hurts like HELL! BUT, so far, it is true to claim..it does remove the hair much longer than shaving. I can't exactly say that it lasts 4-6 weeks like the package says yet because I haven't had it that long, but I can say that the hair I did epilate hasn't grown back yet! With all of that said, I absolutely LOVE this thing! Yes, it hurts, but the pain is bearable. Especially if you're tired of shaving every 2-3 days like me!

I should also say that the pain will be different for everyone depending on your tolerance. If I had to compare it to something I've experienced, I would say it hurts more than getting a tattoo.. if you're really curious, yank out a hair, and imagine that pain multiplied because with this it pulls out more than one hair at a time! Word on the street is that the more you use it, the less it hurts..but again, I can't co-sign because I'm still waiting for the hair to grow back! (&that's a great thing!)

I ordered mine from beautychoice.com . It was $69.95 and shipped in about two weeks because it was on backorder. =/ They have a bunch of different models to choose from. Cheaper and more expensive. Go check it out if you're interested! I'm thiking of upgrading already, and I haven't had mine a month yet! ;)