I've decided that I want to come to you guys every Tuesday(my day off), and review a product that I've tried. I'm not turning this into a beauty blog, but that's what I'm into(hair, nails, makeup), so I will blog about it every now and then! Let me know if you guys think this would be a good idea or not. And if you have more things that you want to see from me, feel free to drop a comment! ;)

__________________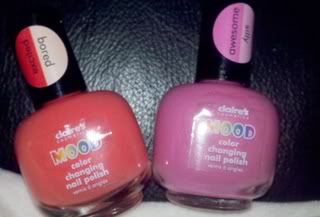 The first product I'm bringing to you guys is Claire's "Mood" color changing polish.
Price: $5, buy on get one 50% off when purchased! I purchased two of them about a week ago, and so far I've only worn the pink one!


The pink polish changes from a Barbie pink(mood being "silly") to a darker pink(mood being "awesome")! And the "orangy coral" one changes from the "orangy coral" color(mood being "excited" to a very pale orange, almost beige(mood being "bored")! A lot of you know that I'm a nail polish fiend, so when I saw these I had to see what they were about!(they're both cream finishes, although the pink one seems as if it has shimmer in the bottle)

Now, I'm sure everyone has had a mood ring at some point in their life and you know its supposed to change according to "how you feel"! Whether you believe that there's truth behind the rings or not is up to you, but these polishes DON'T work that way! After wearing the pink one for a day, I realized that it actually changes according to temperature! When my hands were cold I got the darker pink color, and when they were warm, I got the Barbie pink color.


[cold, dry hands =X]
[warm hands, hopefully you can tell with the different lighting! I'll post better pics when I try out the orange one!]
My Opinion: I absolutely love the polishes and I'm going to get the rest of the colors that they offer. Of course it doesn't change according to your mood, but I find it pretty cool that the color changes period!! I recommend them to anyone who into nail polish like me! =D