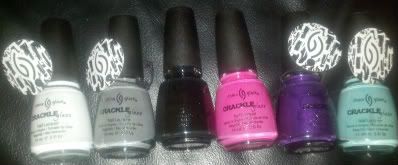 [colors from left to right: "lightning bolt", "cracked concrete", "black mesh", "broken hearted", "fault line".]

I ordered the China Glaze Crackle polishes about a week or so ago from amazon.com. They're not available in stores yet(that I know of) but I'm hearing that they will be sold at Sally Beauty Supply sometime in March. If you're interested be sure to keep an eye out because polish collections sell out fast at Sally's. Well, at the one by me anyway!

I took a nail wheel that I got when I ordered polish from Zoya and tried to swatch each color for you guys since I've only used the black one, but the polish did not crack on the wheel. Therefore, I only have a pic of the "black mesh". I will definitely add the other colors in another nail design post as I use them. But, for now, here is "Black Mesh" over Cover Girl's "Bronze Beauty".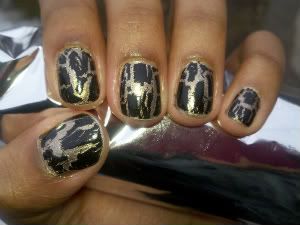 The manicure lasted about 7 days. I would of kept it longer but if you look closely at the picture, you can see that my polish started receding from the tip (all thanks to my Seche Vite top coat. I'm gonna hunt for another fast dry top coat. I love Seche, but I don't love the polish shrinkage. If you guys have any suggestions leave a comment below!)

My Opinion: I think I'm gonna love these polishes. I say "think" because I've only tried the one, but I absolutely love it! They make chipped polish look good, and they're fun to pair up with a bunch of colors. So many different manicure opportunities! I'm all for it.

XOXO