Yesterday while I was blogging I recieved two of the..Idon'tevenknowhowmany, packages I'm expecting! Soo, here I am..sharing!

The first one was a package from Carol's Daughter! I order the "Best Tressed Hair Set".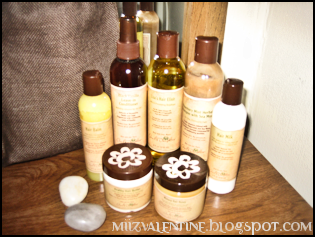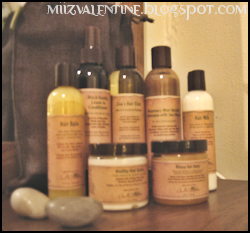 From left to right:
[Bottles] |Hair Balm| Black Vanilla Leave-In Conditioner| Lisa's Hair Elixer| Rosemary Mint Shampoo with Sea Moss| Hair Milk|
[Jars] |Healthy Hair Butter[which was not included, I ordered it seperately]| Mimosa Hair Honey|
+ the bag it came in.

I have a love|hate relationship with my hair. It truly has a mind of it's own, and I'm looking for something that I can use to keep it under control with out using SO much heat..because I don't want to go bald. =] When I wash and blow out my hair it get soooo BIG that I have no other choice than to straighten it. [Way too much heat at once. My opinion.] No one would ever believe how thick my hair is by looking at it after I've flat ironed it. It's weird. I'll have to take before and after pics next time I wash it.

Anyway, I've been trying different shampoos and conditioners, trying to figure out what's best for MY hair. I used to use Pantene ProV for Women of Color.. And that USED to work fine, but now it makes my hair have this weird sticky feeling that I don't like. So I tossed that! Then I used Dr. Miracle for a little bit, but it stinks so bad..I can't. I still use the grease sometimes. Then I found a Very Sexy[Victoria's Secret] sample size Shampoo and Conditioner in my bathroom. Now, when I got it I didn't take it seriously..I figured it wasn't for me. But I used it twice, and it actually works good on my hair! I even considered buying the full size. I probably still will, but I've heard alot of good things about this CD stuff, so I wanted to try it!
[I have not relaxed my hair since November! I'm very proud of myself. When I was in highschool I permed my hair everytime I saw the smallest bit of new growth. Then I had the nerve to get highlights. smh. And that's why I was borderline bald-headed! lol. People used to soop me up and tell me how long my hair was. Well, I was looking at pictures from senior year the other day and.. long?! I vote NO!]

The whole order came to $80 something, but they give first time customers 10% off, so it was $77.88. Shipping is free with orders over $25. [for anyone that may be interested]

Theeen, I got my 78 Palette from Coastal Scents.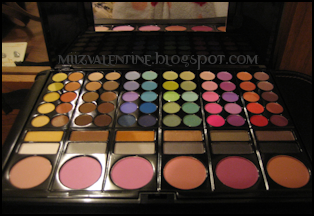 [$21.95 + shipping. Mine came to $31.55, I think!]



I've been watching make-up tutorials on youtube siiiiince like September or so...just watching, never participating. Almost every make-up "guru" on youtube has one of these palettes. They all recommend them for beginners[ME!]..So, I decided to get one so I can practice..because I don't know what I'm doing! Now I can learn for real. It has pretty much every color I'll need. It comes with[top to bottom] eyeshadow, highlight colors, and blush[let's just hope I don't break out!]..and once I feel comfortable enough, I'll move on to the Urban Decays, Nars, MACs..etc.

I'm still waiting on a few other packages. When they come, I'll share them as well!
Right now, I'm gonna charge my phone and eat before we both die! ;]
XOXX